I don't think the scroll FP Charmers wearing is Ribbon of Rebirth. Just look again at Ribbon of Rebirth's artwork. It's different with what the FPs wears: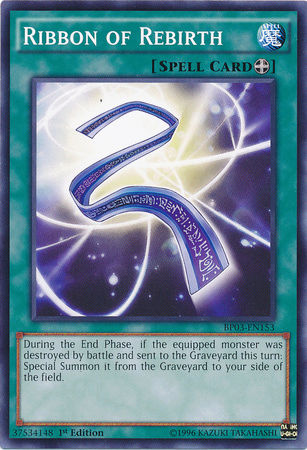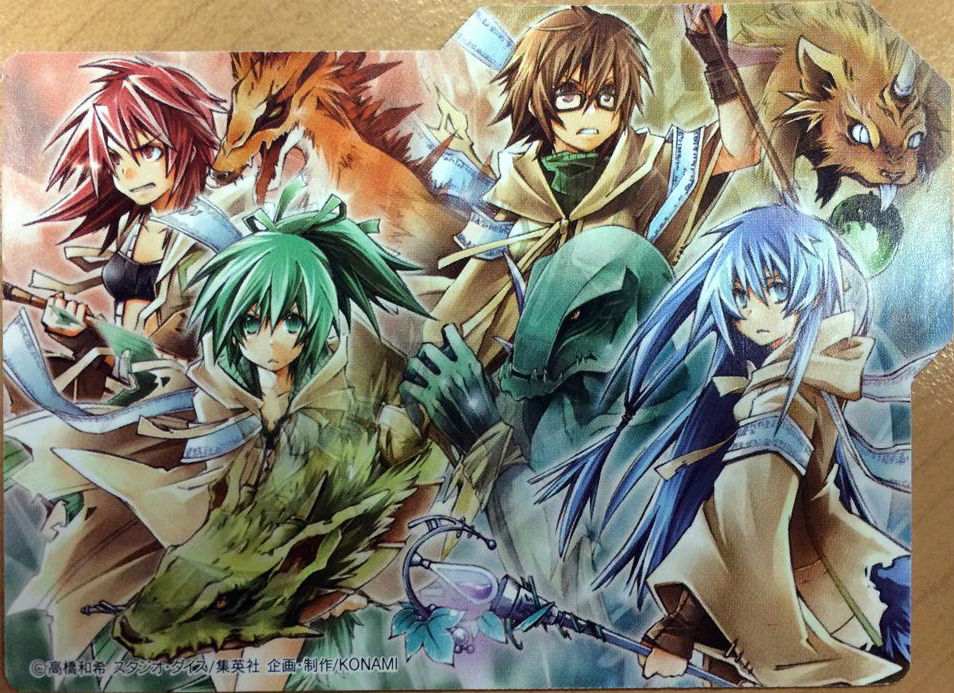 I'm denying if it's Ribbon of Rebirth. But, before that, let me explain what Charmers are based from and how this is connected to what the scroll FP Charmers are wearing.
Charmers, as overall concept, seems to be based on japanese shinto shamanism. There's clues about it:
- Shinto is an animism. They see things around them to manifest spirit/sacred essence, such as rock, trees, animals, etc. And this fits well with Charmers have different attributes, since everything around the nature can be seen to have spirit essence. And remember, Charmer's japanese name, Reitsukai, means the user/controller of spirit. Earth spirit user (chireitsukai), Water spirit user (suireitsukai), Wind spirit user (fuureitsukai), Fire spirit user (kaeritsukai), Dark spirit user (yamireitsukai), and Light spirit user (koureitsukai), are based on spirit essences that possess the things around us (much like rock have spirits, trees have spirits, etc).
- The shamans/priests/priestess/spirit medium of shinto are believed to have ability to possess spirits. The Familiar-Possessed Charmers confirmed this ability. Also, you can see Winda and Nekroz Ariel, which by art itself confirms if they're related to Charmers, are using priestess in their name, which written as "Miko" in kanji. Miko is a priestess of shinto religion.
- Inari Fire, Hiita's familiar, is clearly based on Inari Okami, is a shinto fox spirit/god. In japan, Inari even got their own shrines. As a symbolism, if Familiar-Possessed - Hiita symbolizing a priestess/miko, it can be interpreted that Hiita is a shrine maiden that serves the Inari.
- Charmer's spirit arts using japanese kanji at their artwork. While this isn't directly related to shinto, the kanji represents the japanese essence of shinto itself. But the name "Spiritual/Spirit Art", sums up the spiritualism of shinto.
So, since Charmers and their spirit posession are based on shinto, the scroll/ribbon-thingy they wear is actually some kind of charm to protect the user from unwanted things while being a medium of a spirit. They believe spirits/kami/god can grant them either blessing/curses, and they using omamori/charm to protect themselves from bad things/bad luck.
In Charmer's case, it can be seen as they wish their spirit/kami/god AKA their familiar, doesn't run rampant since they possess them, since if anything bad happens while they're uncontrollable, it can be seen as bad luck. Moreover, while a spirit medium allow a spirit to possess them, their body could be in a state where other spirits can possess them too, which can be dangerous for the Charmers themselves.
So, the charm/ribbon-thingy they wear will prevent those unwanted things to happen and keep everything in control while their familiar possess them. So, yeah, to me, it's not Ribbon of Rebirth, especially with the design being different than the original equip spell.
And why Lyna don't wear this charm? My thoughts/possibilities:
- Look at her staff. You can see a charm-like ribbon attached to it. It might function the same like the other FP Charmer's charm.
- She mastered her possession magic really well and surpassed the abilities of other Charmers, resulting her body to be too 'sacred/divine' (sums up her LIGHT attribute) for any intervention of other spirits while her body in a state where spirits can possess her. Means, even Happy Lover will always be in her control while possessing her and wouldn't run rampant (as if Happy Lover can act wild/vicious)
- She forgot to wear it. lmao
- Akina F. forgot to draw it